This striking yellow vase is the signature of Fohr Keramik. The iconic yellow high gloss glaze combined with the 'Schaumglasur', so-called crusty thick lava glaze, is instantly recognisable and is a statement in your interiour.
This décor was produced on different Fohr Keramik forms. This particular diabolo shaped vase is model nº 313.
Fohr started changing the embossed signature on the base of their work from 'Made in Germany' to 'W.Germany' at the end of the 1960's, early 1970's.
Fohr Keramik is one of the few family enterprises still active today.
Manufacturer: Fohr Keramik, Germany [1859-]
Period/Date: 1958 - early 1970's
Dimensions: Height 10,5 cm, ∅ 12cm
Markings: Made in Germany 313 25
Condition: Good vintage condition. Slight chip off on base and flea bite chip upper rim (on inside).
Reference: CE111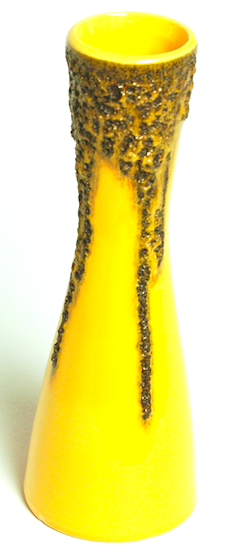 Fohr Keramiek vase model 313